Digital transformation may be the new buzzword, but one aspect is relatively new and unknown to many associations and non-profits. Yet, it has the potential to save a great deal of staff time while providing vital data about current and prospective members. 
Introducing marketing automation: Marketing automation is the key technology that improves both efficiency and effectiveness along each step of the member journey by transforming manual marketing processes into automated ones.
In this blog, we provide 10 ideas for how to embed automated marketing sequences into the member journey by leveraging your database (CRM/AMS).
This is the fifth blog in our Digital Transformation Series. If you missed the first four articles no problem – catch up here! And if you just can't wait to get the full scoop, download our Digital Transformation for Associations e-book NOW!
#1: New Member Onboarding Campaign
When a new member joins your organization, the pressure is on to keep them engaged. Try using email sequences to introduce new members to the organization. Start with a "welcome" email from senior leadership, along with specific action items that new members can take to get immediate value from their investment. Lead with free products and services. Later touchpoints would offer opportunities to deepen participation such as peer networking programs, and volunteer opportunities on committees and Boards. 
Timing, tracking, writing, and sending these emails individually could be a full-time job. With marketing automation, you can tell your CRM/AMS who to email with what content (and when), in just a few clicks. 
#2: Testimonial Capture campaign
Have you ever been in the midst of designing a new member marketing campaign, only to realize that you have no member testimonials?
With marketing automation, your CMS/AMS can automatically request testimonials from members. Try setting up your system to ask for new member testimonials after their first six months, after a conference or AGM, after five years, etc. This streamlined process will ensure that you have recent testimonials right at your fingertips.
#3: Drive to Social Media Campaigns
If your CMS/AMS can segment your members according to different criteria such as geographic area, interest, and career stage, that provides plenty of opportunity to engage different parts of your membership. 
For both long-term and new members, try using these capabilities to get them to engage with your social media campaigns. These campaigns reach out to members who meet specific criteria, with the goal of driving the user to engage within social media.
For new members, try inviting them to participate in a social media "quote" campaign featuring their feedback after attending their first annual convention. For long-term members you could run the opposite social media campaign – why are they still aboard?
"Marketing automation helps bridge the gap between expectation and reality, allowing teams of all sizes to get significantly closer to their goals than they could otherwise."- Associations Now
#4: Digital Lead Generation Forms
A proven first step to getting potential new members is called a lead generation form: a document that solves one of their pressing problems, addresses a key pain point, or provides news they can use. Whitepapers are the ideal format. 
If a new law was passed that will impact how your members operate, why not design a '5 Things You Need to Know About Bill X" whitepaper? Try setting it up as a pop message that appears on any website page that the reader stays on for more than 15 seconds.
When the potential member clicks on the 'download whitepaper now' link, they are taken to a simple form that only asks for their name and email address. This low-pressure approach and incentive to get the whitepaper to make it more likely that people will complete the form. 
#5: Mobile Lead Capture
Mobile Lead Capture is another version of lead generation. This strategy is particularly effective at in-person events. Think of it as a mechanism to have a text 'conversation' with a person. Such conversations will ask for their name, and email address, plus one or two other simple questions. The data is saved and tagged appropriately in your CMS/AMS, which triggers a series of actions. 
#6: Support from Registration to Post-Event
Where mobile lead captures are wonderful for engaging those who are already at an event, what about email campaigns that take event registrations to the next level?
These campaigns automate the registration process beforehand and then provide resources and follow-up information after the event. This wrap-around support demonstrates that you care about every step of the member event journey.
These campaigns have three goals: 
Drive attendees to the organization's community.

Provide a clear path to a transaction.

Encourage sharing with their networks.
#7: "How To" Education Sequence
Education is no longer limited to in-person courses or even webinars. Digital content that provides concise, actionable tips on how to accomplish specific tasks are quite attractive to members. Consider implementing a 3-5 step email sequence to educate members and prospective members. Why not create a tips sequence to provide short-term assistance while promoting your larger educational offerings on that topic?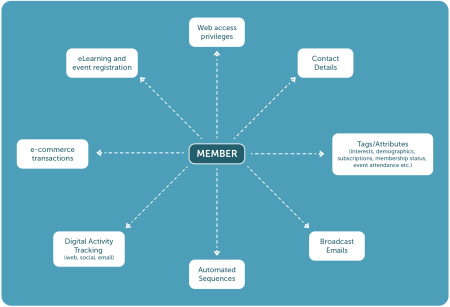 "Not sure automation is right for you? Red flags include the inability to make the member experience feel personal, low member and sponsor engagement, and overworked or understaffed marketing teams."- Associations Now
#8: Continuing Education Follow-up Information
This approach is especially effective when holding courses on topics that are new to your members. After the event, you need to know how the initial course offering was received. If the feedback is good, consider creating an email sequence to assess interest amongst event attendees in creating an ongoing Community of Practice on that topic. This demonstrates that you are paying attention to member feedback and offering relevant and desirable engagement opportunities.
#9: Nurture Marketing Campaigns
Nurture campaigns take the long-game approach. These long-term sequences of value-adding emails help keep the conversation going long after an initial touchpoint. The assumption here is that the user wasn't yet ready to commit after that first interaction with your organization. Perhaps they need more information, or simply more time to weigh the options. 
That's why this approach is sometimes called drip marketing; drop by drop, engagement deepens, and interest grows. This type of sequence cannot be overstated: each nurture touchpoint improves the relationship and provides education. 
#10: Engagement Scoring
What is more important than the internal efficiencies or the external service quality improvements that marketing automation provides? Your members' data is combined with social media signals and web metrics. An engagement score is just one example of this approach.
An engagement score can be calculated automatically by your CMS/AMS based on member campaign activity, tags, web forms completed, social media, email clicks, etc. Once a member's engagement score is calculated, try setting up a campaign that would be triggered if their score changes. If their score has dropped significantly, the campaign might have a retention message: don't forget all that membership has to offer. For non-members with a high score, the campaign could include a recruitment message: why not join?
In this blog, we have shared 10 ways that you can leverage marketing automation to get the member data you need and to provide members with the experiences and information that they want. Don't miss our next blog, where we cover digital transformation strategy planning. 
If you want to see the whole picture NOW, download our e-book, Digital Transformation for Associations! Divided into 10 sections for easy reading, consider it your 'start here' digital transformation guide.